Description
Boxer Statue Introduction:
>> This seated bronze boxer statue was excavated from the foundation pit of an ancient city wall on the Quirinal Hill in Rome in 1885. It is now collected in the Roman Museum.
>> When he was unearthed, his eyes and teeth were missing, and the red color on his body symbolized his clenched knuckles and exposed wounds.
>> His strong but battered body, and his pained expression, all convey the state of physical and mental exhaustion after the battle. A broken nose, fresh wounds, and softly textured hair and beard reflect an unusually realistic style.
Why Mily could Highly Restore It?
>> First of all, in order to highly restore the details of the bronze boxer statue, our professional clay model artisan would make a 1:1 clay model with reference to the original work. During this process, it is constantly compared and revised with the original work.
>> Secondly, during the casting process, the artisans of Mily Factory used silicone molds to turn over the wax shells, so that every movement and every expression of the sculpted figures could be perfectly displayed.
>> Thirdly, the highly skilled painters in the Mily Factory are fully capable of making the colors of the statues look natural and with a sense of history. The alternation of light and dark colors could also be perfectly shaped.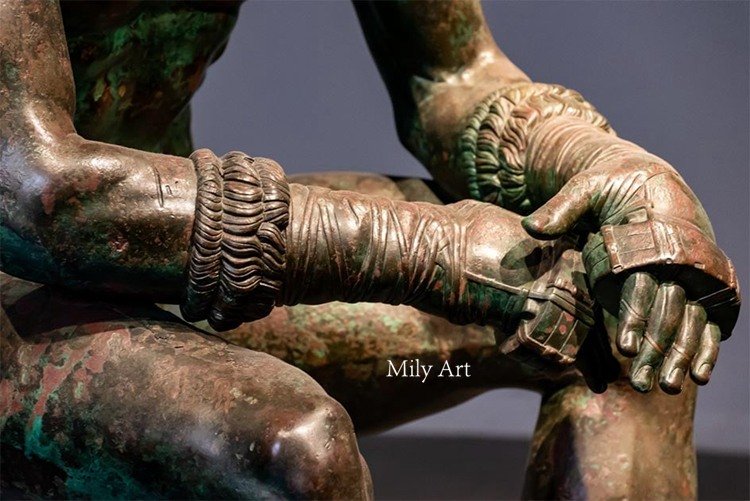 More Options for You:
>> Except for the seated boxer statue, Mily factory also has other similar museum replicas for sale, for example, the bronze dancing Faun statue, the bronze Moses statue, the bronze boy with thorn statue, etc.
>> In order to meet the different needs of customers, Mily also provides you with various customized services. We could help you realize any statue, size, color, etc. you want.
Strong Packaging:
>> Mily has always paid great attention to product packaging. After all, it's also what we want to make our customers happy when they receive a statue in perfect condition.
>> Mily's staff would use thick and soft foams to tightly wrap the surface of the bronze statue. Then put it into a special wooden crate. Strong wooden crates provide good external protection.
>> With double packaging inside and outside, your statue could arrive safely at your home.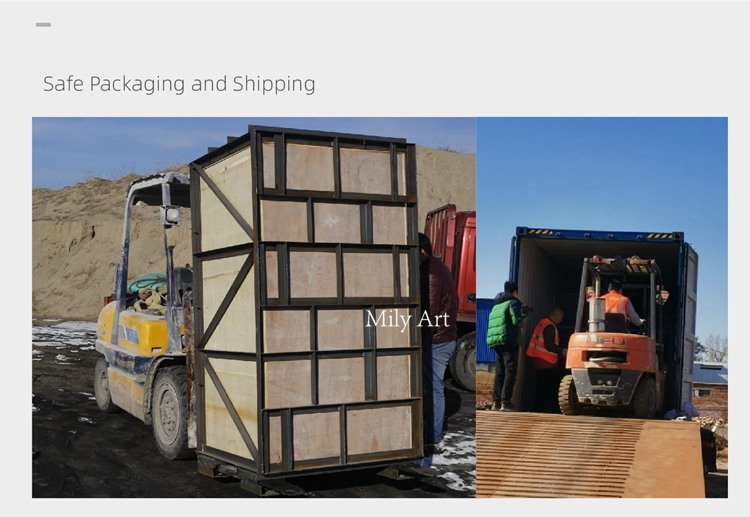 Mily welcomes friends from all over the world. If you want to buy replicas of famous Greek bronze statues, please feel free to contact us.