>> The marble angel tombstone stands as a remarkable testament to the enduring bond between heaven and earth. Each exquisite sculpture portrays an angel in serene repose, with intricately carved details capturing the ethereal essence of celestial beings.
>> Such beautiful angel headstones hold deep symbolism, representing guidance, protection, and a connection to the spiritual realm. With their serene presence, they provide solace and comfort to those seeking solace in times of grief.
>> The masters of the Mily factory have rich experience in making marble angel tombstones. They carve with great respect and perfectly show the details on each tombstone. Therefore, all the marble angel tombstones made by them are fine products.
Made with Natural Marble: Beauty That Lasts
>> At Mily Factory, we take immense pride in using the finest natural marble to create our marble angel tombstones. Natural marble is not only renowned for its exquisite beauty, but it also possesses exceptional durability, ensuring the longevity of these memorial sculptures.
>> The white marble, in particular, exudes a sense of purity and nobility, adding an ethereal touch to the final creation. With proper care, these marble tombstones will endure as timeless tributes to your cherished loved ones.
More Angel Tombstone Designs:
>> Mily factory has a diverse range of angel tombstones designs, encompassing various styles and artistic expressions. Whether you prefer a classic design characterized by flowing lines and delicate features, or a more contemporary interpretation with a touch of modernity, we have options to suit every taste.
>> Furthermore, we understand the importance of customization. Our skilled artisans are ready to transform your ideas and visions into reality, creating a bespoke marble angel tombstone that reflects the unique spirit of your loved one.
Ensuring Safe Delivery:
>> Our dedicated staff meticulously packs each tombstone in sturdy wooden crates, offering reliable protection during transit.
>> To ensure an extra layer of safeguarding, we wrap the surface of the tombstone with multiple layers of thick and soft cotton, minimizing the risk of any damage during transportation.
>> So, please rest assured that your marble angel tombstone will arrive at your doorstep in pristine condition.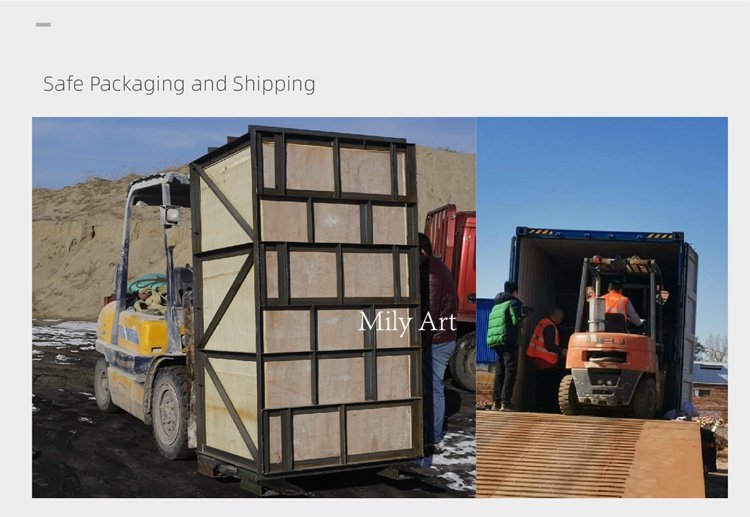 At Mily Factory, we combine exquisite craftsmanship with customization options, ensuring a memorial tombstone that resonates with your heart. If you are interested in this marble angel tombstone or want to customize other styles, please feel free to contact us.