>> Behold our standout creation, the modern metal wall sculpture resembling an upright curved water plant. With its organic shape and graceful lines, it exudes an inherent sense of elegance.
>> The strong color effects and mesmerizing metal texture add depth and visual interest, ensuring it becomes a captivating presence in any hotel or living room. This sculpture is an embodiment of contemporary artistry, designed to captivate and engage the viewer.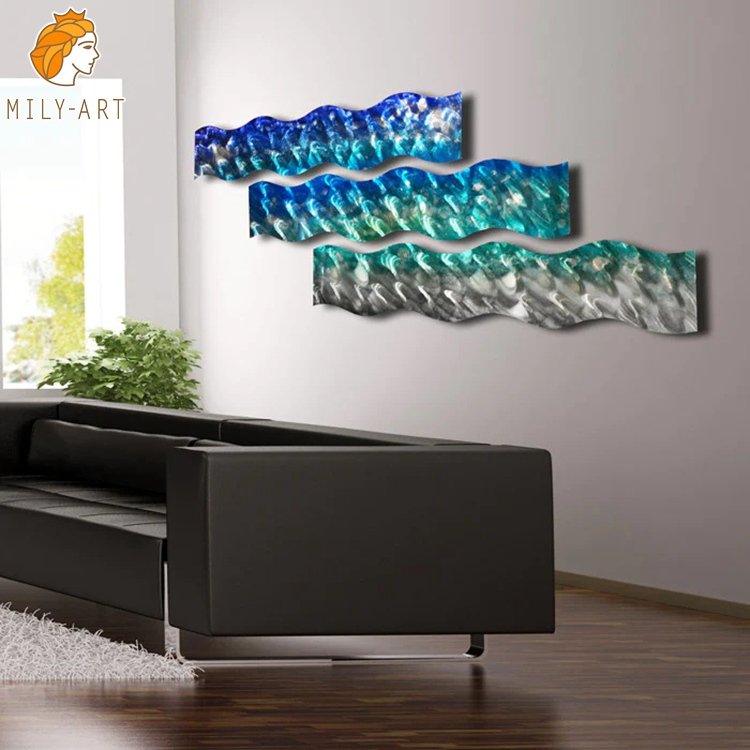 Professional Craftsmanship:
>> Mily's skilled craftsmen are dedicated to transforming raw stainless steel into stunning works of art. Through careful cutting, shaping, and welding, such a modern metal wall sculpture is gradually formed, paying attention to every detail to ensure precision and durability.
>> Our artisans then carefully prepare and polish the surface of the stainless steel sculptures to achieve a seamless, polished look.
>> The surface of this stainless steel sculpture is colored by electroplating. The superb coloring technique makes the surface color very beautiful, ready to decorate your wall with elegance and grandeur.
More Metal Wall Sculpture Options:
>> In addition to the majestic upright curved water plant sculptures, we also proudly offer a series of exquisite metal wall sculptures, such as stainless steel wall horse head sculptures, stainless steel wall dragonfly sculptures, stainless steel wall fish sculptures, stainless steel wall figure sculptures, etc.
>> Each piece in these large metal wall sculptures showcases a unique blend of art and craftsmanship. From abstract compositions to nature-inspired designs, you'll find a piece of sculpture that resonates with your personal style and enhances your living or working space.
>> Additionally, we invite you to unleash your imagination and discuss customization options with our team, allowing you to bring your whimsy to life.
Full Shipping Insurance:
>> Mily Factory prioritizes the safe transport of customer-purchased sculptures to your desired location. We've partnered with a trusted ocean shipping service to ensure the sculpture arrives in perfect condition.
>> In order to protect the interests of customers to the greatest extent, we purchase full transportation insurance for each item, so that you have no worries throughout the journey. So, you could buy with confidence.
If you also want to decorate the walls of your hotel or home with unique metal sculpture artwork, please do not miss Mily Factory.